The purpose of the Instructional Space and Scheduling Improvements Initiative is to develop recommendations to improve significantly the availability and utility of instructional spaces at UMBC.  This initiative follows from the Instructional Space and Scheduling Review Study by Educational Consulting Services Corp. (ECS) that resulted in the Utilization Report and Key Issues and Planning Directions Report.
A Steering Committee, a Task Force, and Five Working Teams representing a broad range of campus stakeholders have been formed, and three informational sessions were given for the UMBC community in April and May 2019.  The Working Team charges can be found here.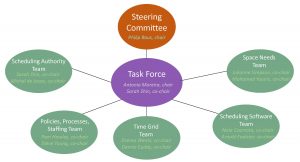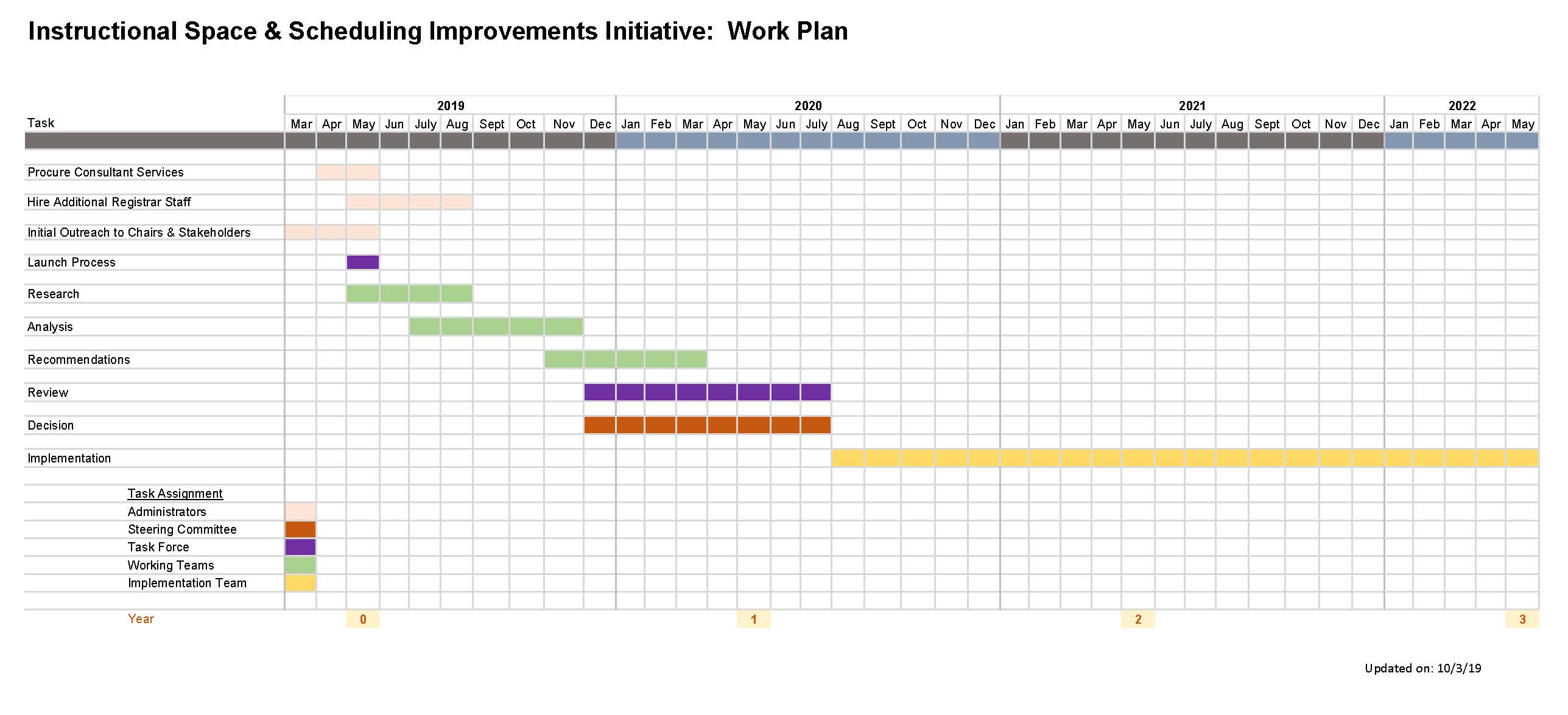 Click on image above to enlarge.
The following is a summary of activities to date:
The Task Force and the Working Teams met regularly throughout summer 2019 to analyze current practices, policies, and outcomes related to the use and scheduling of instructional space at UMBC. These groups are identifying opportunities and strategies that the University can consider to strengthen scheduling and space management in support of teaching and learning, developing quality schedules for students and faculty, and achieving good utilization and equitable access to instructional space. We expect to have draft recommendations from the Working Teams by February 2020.
Best practice research is being conducted, including visits to institutions that have implemented scheduling improvements in order to learn about their experiences.
We administered a survey to scheduling coordinators and department chairs in September. Survey results are now being analyzed.
We will continue to inform the campus of progress made and will seek input from community members as the project unfolds. In the meantime, we welcome your suggestions and feedback.
Please direct all inquiries and comments to Tony Moreira (moreira@umbc.edu) and Peggy Re (re@umbc.edu).
(page last updated 11/21/22)