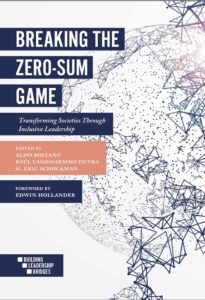 Breaking the Zero-Sum Game: Transforming Societies Through Inclusive Leadership

 
Aldo Boitano
Escaping the win-lose dynamics of zero-sum game approaches is crucial for finding integrated, inclusive solutions to complex issues. In this book, the reader will uncover real-life examples of inclusive leaders that have broken the zero-sum game. As the examples in the book demonstrate, inclusive leadership is not the privilege of a few gifted individuals with extraordinary human qualities. The vast majority of inclusive leaders are just regular everyday people. They only differ ― and what a difference it makes! ― in being able to turn what seem to be zero-sum problems into opportunities for inclusiveness.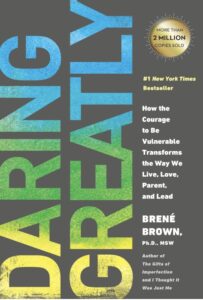 Daring Greatly: How the Courage to Be Vulnerable Transforms the Way We Live, Love, Parent, and Lead
Brené Brown
Every day we experience the uncertainty, risks, and emotional exposure that define what it means to be vulnerable or to dare greatly. Based on twelve years of pioneering research, Brené Brown PhD, MSW, dispels the cultural myth that vulnerability is weakness and argues that it is, in truth, our most accurate measure of courage. Brown explains how vulnerability is both the core of difficult emotions like fear, grief, and disappointment, and the birthplace of love, belonging, joy, empathy, innovation, and creativity. She writes: "When we shut ourselves off from vulnerability, we distance ourselves from the experiences that bring purpose and meaning to our lives."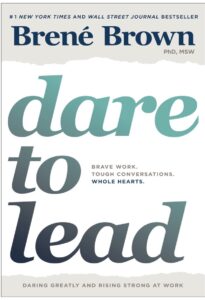 Dare to Lead: Brave Work. Tough Conversations. Whole Hearts.
Brené Brown
When we dare to lead, we don't pretend to have the right answers; we stay curious and ask the right questions. We don't see power as finite and hoard it; we know that power becomes infinite when we share it with others. We don't avoid difficult conversations and situations; we lean into vulnerability when it's necessary to do good work. But daring leadership in a culture defined by scarcity, fear, and uncertainty requires skill-building around traits that are deeply and uniquely human. The irony is that we're choosing not to invest in developing the hearts and minds of leaders at the exact same time as we're scrambling to figure out what we have to offer that machines and AI can't do better and faster. What can we do better? Empathy, connection, and courage, to start.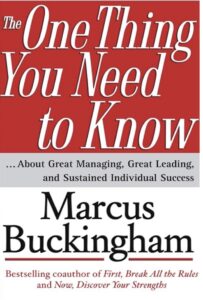 The One Thing You Need to Know: … About Great Managing, Great Leading, and Sustained Individual Success
Marcus Buckingham
Great managing, leading, and career success — Buckingham draws on a wealth of applicable examples to reveal that a controlling insight lies at the heart of the three. Lose sight of this "one thing" and even the best efforts will be diminished or compromised. As he observes, success comes to those who remain mindful of the core insight, understand all of its ramifications, and orient their decisions around it.
A Leader's Guide to Solving Challenges with Emotional Intelligence
David Caruso
This guide teaches four emotional intelligence skills to acquire accurate emotional data, leverage emotions to make better decisions, understand the underlying causes of emotions and manage emotions effectively. We then address a number of specific leadership challenges and provide you with a set of blueprints to successfully address these challenges using the four emotional intelligence skills. Learn how to Map Emotions, Match Emotions, understand the Meaning of Emotions and Move Emotions. This ability model of emotional intelligence is an intelligence and these are hard—not soft—skills.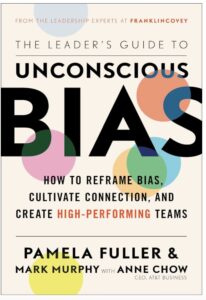 The Leader's Guide to Unconscious Bias: How To Reframe Bias, Cultivate Connection, and Create High-Performing Teams
Pamela Fuller, Mark Murphy, and Anne Chow
Ideal for every manager who wants to understand and move past their own preconceived ideas, The Leader's Guide to Unconscious Bias explains that bias is the result of mental shortcuts, our likes and dislikes, and is a natural part of the human condition. And what we assume about each other and how we interact with one another has vast effects on our organizational success—especially in the workplace. Teaching you how to overcome unconscious bias, this book provides more than thirty unique tools, such as a prep worksheet and a list of ways to reframe your unconscious thoughts.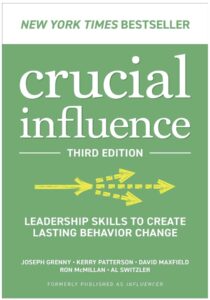 Crucial Influence: Leadership Skills to Create Lasting Behavior Change
Joseph Grenny
Crucial Influence walks you through the process of identifying the personal, social, and structural levers that influence both motivation and ability, then engaging these levers for directed behavior change "At the end of the day, leadership is intentional influence," the authors write. "If behavior isn't changing, you aren't leading." Whatever you're seeking to change through effective leadership―from making virtual workforces work to tackling a social issue―influence, not authority, is what will get you there. You'll learn to view leadership through the new lens of influence as you apply the lessons from this book to everyday challenges.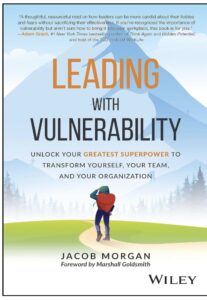 Leading with Vulnerability: Unlock Your Greatest Superpower to Transform Yourself, Your Team, and Your Organization
Jacob Morgan
How do some of the world's top leaders unlock the potential of others, create trust, and lead through change? While vulnerability cripples some leaders, others tap into it and use it as a superpower. Vulnerability alone makes leaders seem incompetent. Competence on its own makes it hard for leaders to connect with their people. The key is to develop both competence and vulnerability, what Jacob calls "The Vulnerable Leader Equation." Based on over 100 CEO interviews and a survey of nearly 14,000 employees, renowned leadership thought leader and futurist Jacob Morgan shares candid stories and original research that shows how leaders can tap into vulnerability to transform themselves, their teams, and their organizations.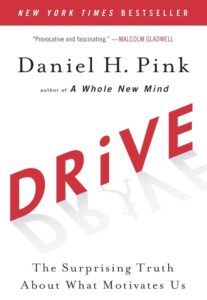 Drive: The Surprising Truth About What Motivates Us
Daniel H. Pink
Most people believe that the best way to motivate is with rewards like money—the carrot-and-stick approach. That's a mistake, according to this book. The author asserts that the secret to high performance and satisfaction-at work, at school, and at home—is the deeply human need to direct our own lives, to learn and create new things, and to do better by ourselves and our world. Drawing on four decades of scientific research on human motivation, Pink exposes the mismatch between what science knows and what business does—and how that affects every aspect of life. He examines the three elements of true motivation—autonomy, mastery, and purpose-and offers smart and surprising techniques for putting these into action in a unique book that will change how we think and transform how we live.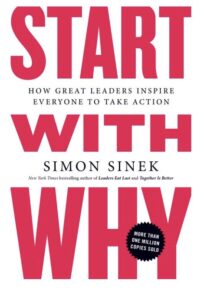 Start with Why: How Great Leaders Inspire Everyone to Take Action
Simon Sinek
In 2009, Simon Sinek started a movement to help people become more inspired at work, and in turn inspire their colleagues and customers. Sinek starts with a fundamental question: Why are some people and organizations more innovative, more influential, and more profitable than others? Why do some command greater loyalty from customers and employees alike? Even among the successful, why are so few able to repeat their success over and over?
START WITH WHY shows that the leaders who've had the greatest influence in the world all think, act, and communicate the same way — and it's the opposite of what everyone else does. Sinek calls this powerful idea The Golden Circle, and it provides a framework upon which organizations can be built, movements can be led, and people can be inspired. And it all starts with WHY.