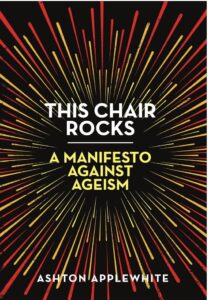 This Chair Rocks: A Manifesto Against Ageism
Ashton Applewhite
Explaining the roots of ageism in history and how it divides and debases, Applewhite examines how ageist stereotypes cripple the way our brains and bodies function, looks at ageism in the workplace and the bedroom, exposes the cost of the all-American myth of independence, critiques the portrayal of elders as burdens to society, describes what an all-age-friendly world would look like, and offers a rousing call to action.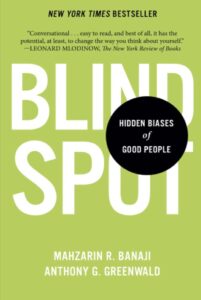 Blindspot: Hidden Biases of Good People
Mahzarin R. Banaji and Anthony Greenwald
"I know my own mind. I am able to assess others in a fair and accurate way."
These self-perceptions are challenged by leading psychologists Mahzarin R. Banaji and Anthony G. Greenwald as they explore the hidden biases we all carry from a lifetime of exposure to cultural attitudes about age, gender, race, ethnicity, religion, social class, sexuality, disability status, and nationality. "Blindspot" is the authors' metaphor for the portion of the mind that houses hidden biases. Writing with simplicity and verve, Banaji and Greenwald question the extent to which our perceptions of social groups—without our awareness or conscious control—shape our likes and dislikes and our judgments about people's character, abilities, and potential.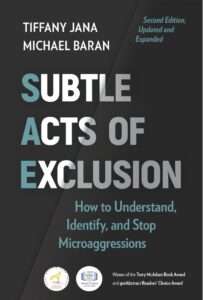 Subtle Acts of Exclusion: How to Understand, Identify, and Stop Microaggressions
Tiffany Jana
Overt discrimination is relatively easy to spot. But the less obvious but more common actions that make people feel left out or stigmatized in our workplaces, commonly called microaggressions, can be hard to identify and even harder to deal with. The author use a clearer, more accurate term: subtle acts of exclusion (SAE). After all, people generally aren't trying to be aggressive—usually they're trying to say something nice, learn more about a person, or be funny. Bring accused of aggression shuts the conversation down, when you want to open it up. This book features examples, tools, sample scripts, and action plans to help readers prevent subtle acts of aggression from happening, or deal with them when they do.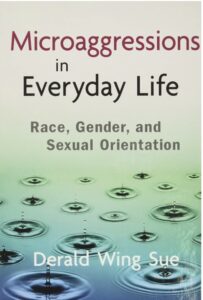 Microaggressions in Everyday Life
Derald Wing Sue
This book presents an introduction to the concept of microaggressions, classifies the various types of microaggressions, and offers solutions for ending microaggressions at the individual, group, and community levels. Subtle racism, sexism, and heterosexism remain relatively invisible and potentially harmful to the wellbeing, self-esteem, and standard of living of many marginalized groups in society. The book examines the manifestations of various forms of microaggressions and explores their impact. The text covers: researching microaggressions, exploring microaggressions in education, identifying best practices teaching about microaggressions, understanding microaggressions in the counseling setting, as well as guidelines for combating microaggressions. Each chapter concludes with a section called "The Way Forward" that provides guidelines, strategies, and interventions designed to help make our society free of microaggressions.