Associate Provost for Academic Affairs
1006 Administration Building
410-455-1677
shin@umbc.edu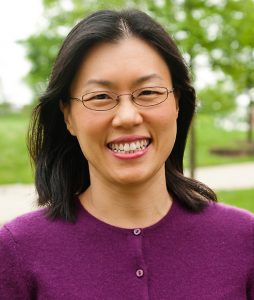 As associate provost for academic affairs, Sarah Shin manages comprehensive periodic reviews of academic programs and development of new programs at UMBC. Reporting to the provost and working with the council of vice presidents and deans, Shin performs project management and communications related to the implementation of UMBC's strategic plan. Highly effective in executing critical functions related to academic affairs, Shin leads key campus-wide initiatives originating from the provost's office and UMBC's leadership, including strategic enrollment planning and implementation, strengthening online teaching and learning, and instructional space and scheduling improvement.
Prior to her appointment as associate provost, Shin served as special assistant to the provost for academic initiatives. In that role, she oversaw several special projects (including a new faculty awards initiative) and led UMBC's student advising task force. In 2017-2018, Shin was awarded the prestigious American Council on Education Fellowship and served as a fellow in the president's office at the University of Maryland, Baltimore (UMB), where she developed inter-institutional partnerships between UMBC and UMB, work that she continues in her current role.
Shin brings extensive experience in leadership and shared governance, including her two-term service as president of faculty senate. She played a significant role in institutional planning and assessment on the strategic planning steering committee and the Middle States accreditation steering committee. Shin has served as an inaugural member of the executive committee for the recruitment and retention of under-represented minority faculty, and directed UMBC's TESOL graduate program.
Shin joined UMBC in 1999 and is a professor of education and an affiliate professor of language, literacy, and culture. In 2017, she was named UMBC's Presidential Research Professor. Shin received her Ph.D. in linguistics from the University of Michigan and has established an international reputation for scholarship related to bilingualism, heritage language education, and TESOL teacher preparation. Author of four books and numerous publications, Shin serves on the editorial boards of the Journal of Language, Identity, and Education and the International Multilingual Research Journal.